Organic Tamanu Oil
Organic Tamanu Oil 30kg
Product code: Organic Tamanu Oil 30kg
Net weight: 30kg

Botanical Name: Calophyllum inophyllum
Origin country: Vietnam
Extraction: Virgin/Unrefined/Cold Pressed
Shelf Life: Minimum of 2years
Product Classification: Organic Certificate; Wild Harvested, 100% pure & natural
INCI Name: Calophyllum Tacamahaca Seed Oil
CAS Number: 223748-12-7
Color - Rich luxurious, dark green
Odor - Fatty, nutty and odoriferous
Package: 25 - 50 - 180 kgs/drum

ABOUT TAMANU OIL
Tamanu Oil is a natural nut oil that is extracted from the nut kernels of the Tamanu Tree after the nut kernels have been left to cure over a 6-8 week period. The scientific name for the Tamanu Nut Tree is Calophyllum inophyllum – an evergreen tree and a member of the Mangosteen Family. This tree is indigenous to the tropical countries such as Vietnam and South East Asia.

Tamanu Flower and Fruit
The real healing power of this traditional topical oil is its unique ability to promote the formation of new tissue, therebyaccelerating wound healing and the growth of healthy skin (anti-aging). The scientific term for this process is "cicatrization".Scientists don't fully understand the unique cicatrizing properties of the Oil as it has an extremely complex portfolio of chemistry that is difficult to decipher or explain. However, scientific studies clearly establish that Tamanu Oil is a significant healing agent, not only because of its ability to produce new skin tissue, but ALSO because of its anti-inflammatory, anti-neuralgic, antibiotic andantioxidant properties.
In addition, Tamanu Oil contains Sc Glucan which provides natural UV protection in that it prevents 85 % of the DNA damage and oxidative stress induced by UV radiation at 1% concentration as a new biological UV filter with a SPF 18-22. (Eur J Pharm. Sci 2007 Mar;30(3-4):203-10. Epub 2006 Nov 9).

HOW TAMANU OIL IS PRODUCED
The Tamanu Nut Tree is actually indigenous to the tropical areas of Vietnam and South East Asia. The Tamanu Tree has been known by many names. In Vietnam the tree is called Mu U, in Vanuatu, it is also known as "Nabagura", in Tahiti it is "Dilo" or "Dolno".


Sun dry Tamanu Seed

The trunk of the tree is usually covered in dark, cracked bark while the leaves are elongated and glossy. Small, sweet-smelling white flowers (with a yellow center) are produced twice yearly. These flowers then give way to clusters of fruit. These start out green but turn a yellowy color as they mature. Inside this thin, fleshy fruit (which is inedible) is the Tamanu Nut .
The Tamanu Nut must be allowed to fall naturally from the tree and the pale-colored nut kernels are then laid out on racks to cure (for 1-2 months). During this process, these kernels turn a brownish-red color and release a strong, rich oil. This oil is then extracted by cold-pressing and filtration.
The Tamanu Oil flow chart: Raw Tamanu nut ⇒ Breaking shell/seed Tamanu nut ⇒ Drying Tamanu nut (Sun dry) ⇒ Cutting nuts and grind to powder ⇒ Cold press ⇒ Filter TamanuOil ⇒ Virgin Tamanu Oil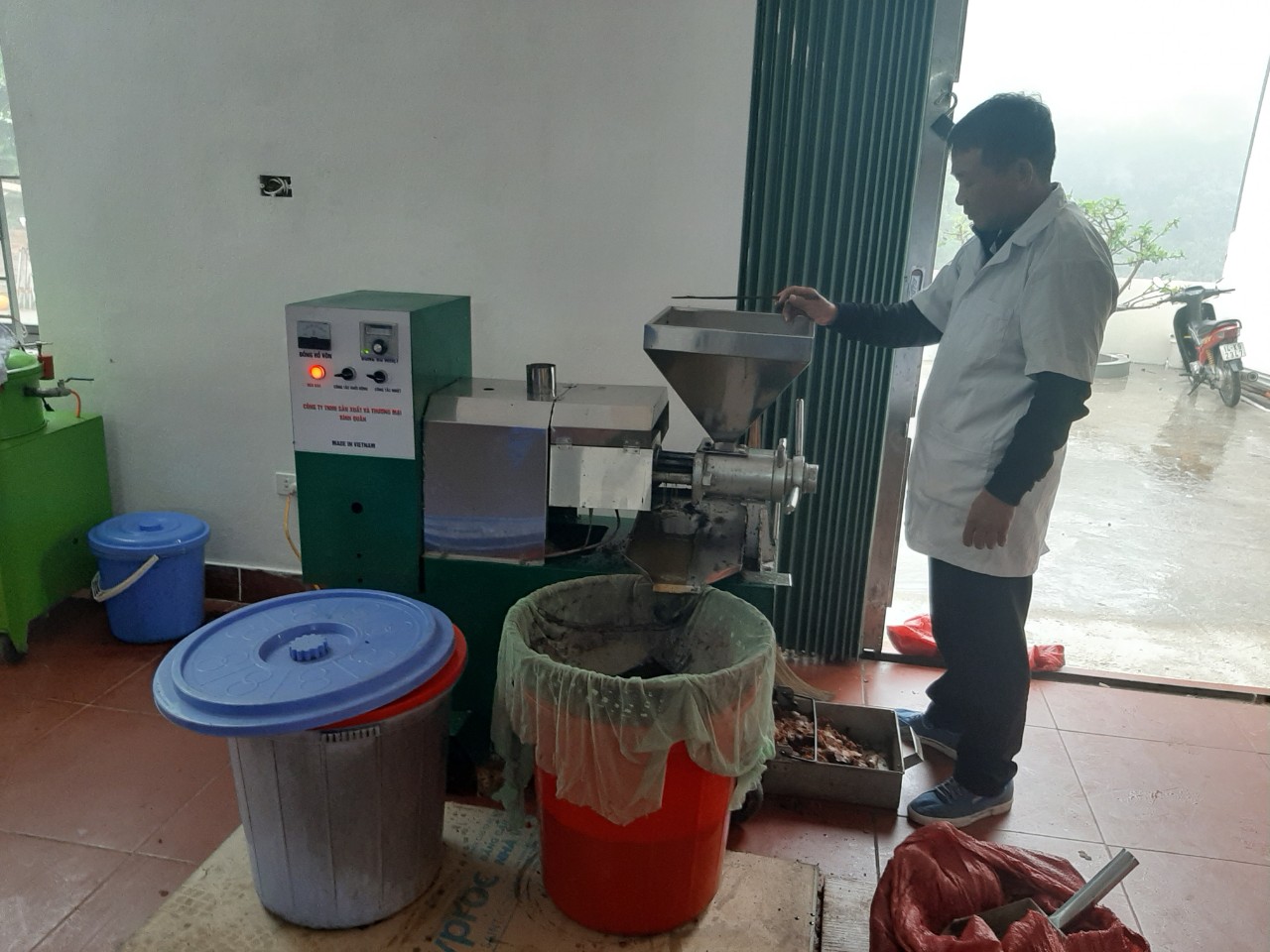 TAMANU OIL USES
Used topically, Tamanu Carrier Oil facilitates the growth of newer skin and leaves the skin feeling smoother and softer. It soothes, repairs, and diminishes redness, scars, stretch marks, irritation, itchiness, dryness, and peeling. It prevents blemishes from forming, and it protects against the harsh effects of the elements. It works to reduce age spots, stretch marks, cellulite, and dryness.

Used in hair, Tamanu Oil encourages stronger, longer, and healthier hair growth, addresses hair loss, hydrates the strands, brings out hair's natural sheen, and helps with easier manageability. It also works to soothe inflammation and eliminate fungal infections on the scalp.

Used medicinally, Tamanu Carrier Oil works to reduce acne, dermatitis, eczema, psoriasis, scarring, ulcers, itchiness, scaly skin, body odor, fungal infections, rashes, sores, swelling, sunburn, sciatica, rosacea, and foot odor.

Tamanu Oil is also reputed to soothe fissures, chilblains, rheumatism, shingles, Athlete's Foot, scrapes, cuts, sores, boils, insect bites and stings, severe burns, neuralgia, gout, and dermatophytosis of the beard or the scalp. It is ideal for use in massage oils intended to address various types of pain..


Tamanu Oil stored at cold places

STORAGE:
Tamanu Oil should be stored at room temperature or hotter but extreme heat should be avoided. Precipitation can occur in cool to cold temperatures. This is where the fatty acids tend to separate out. Consequently, shake well before use and keep at room temperature.
Note: Avoid yellow-coloured or lightly coloured oil. Ignore claims of some special extraction process to explain the lighter colour. It is more likely that the oil has been mixed with some other cheap carrier oil (such as olive oil) or it has been subject to a chemical deodorizing process or it comes from the nuts of inland or inferior trees. Always look for 100% pure Tamanu Oil.

PRECAUTIONS
Possible skin sensitivity.
Keep out of reach of children.
If you are pregnant, nursing, or under a doctor's care, consult your physician.
Avoid contact with eyes, inner ears, and sensitive areas.
Online Support
+84.903561868

tamanuvietnam@gmail.com
Head Office

+84.965361218