Story of Tamanu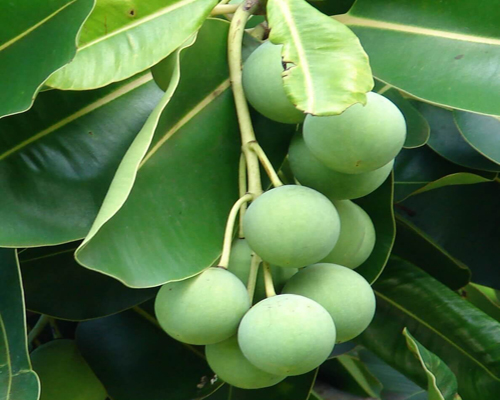 Tamanu Oil, also referred to as Green Gold, "ati-tree" is pressed from the fruit kernel of the Callophyllum inophyllum botanical, better known as the Tamanu Nut Tree. The plant receives its name from the Latin term meaning "beautiful leaf," hence another popular nickname for the century-old remedy: Beauty Leaf Oil. The tree is indigenous to Vietnam & Southeast Asia and blooms twice a year. The tamanu tree produces sweet-tasting fruit which contains a large nut. Once the kernel is dried in the sun for about a month, it becomes sticky with thick, dark oil. The oil that is pressed from the kernel is tamanu oil.



Tamanu oil has a long tradition of use in Vietnam, Southeast Asia and Pacific Islands where it is applied to the skin and hair, for conditions such as acne, psoriasis, and scars. It is said to reduce inflammation and destroy bacteria.

Tamanu oil is used to alleviate pain, applied topically to relieve the pain caused by conditions like sciatica, cold sores, and shingles. Also believed to aid in the regeneration of skin, this oil is used to reduce the appearance of stretch marks, acne scars, and keloid scars. Tamanu oil is said to promote the healing of burns, blisters, cuts, and scrapes. Some people also use tamanu oil to soothe insect bites.