Tamanu Oil Flowchart
Raw Tamanu Seed ⇒ Breaking shell/seed Tamanu nut ⇒ Drying Tamanu nut (Sun dry) ⇒ Cold press ⇒ Filter ⇒ Packing for export.
1. Tamanu Raw Material.




Tamanu tree grown wild everywhere in Mekong Delta of Vietnam


The Tamanu tree is a native tree in Vietnam, Tamanu tree is seen everywhere especially in the Mekong Delta area. Tamanu trees grow wild in gardens, marshes, riverbanks, quarries along the river.
Tamanu oil is a precious medicinal herb. Indigenous people have been using Tamanu oil for thousands of years to treat skin diseases, burn treatment. Tamanu oil also uses hair balm to help keep hair long, soft, prevent hair loss, and cleanse the scalp.
Tamanu tree is very familiar to every Vietnamese, it becomes a symbol of love, fidelity, and the inspiration of smooth poetry and folk songs.

Yellow butterflies perched on Tamanu branches.
In the afternoon, fallen leaves filled the river
Are you sad when you listen to songbirds?


Enjoy the

Tamanu flower blossoms, I'm also sad "
"There is a river flowing in my memory
My village is on the right and your village is on the left of the river
Every day I go to school by boat
On the boat, I looked for the shadow of a Tamanu
There is a yellow butterfly flying around the Tamanu flower
How many afternoons did I want to cross the river to see you?
2. Break shell Tamanu Seed.
Tamanu trees are harvested twice a year from July to September and from December to March.
When the fruit ripens, the Tamanu fruit will fall, and the farmer will collect it then dried Tamanu fruit for 1-2 weeks under the sun.
Note: Do not collect unripe fruit because the fruit does not contain oil.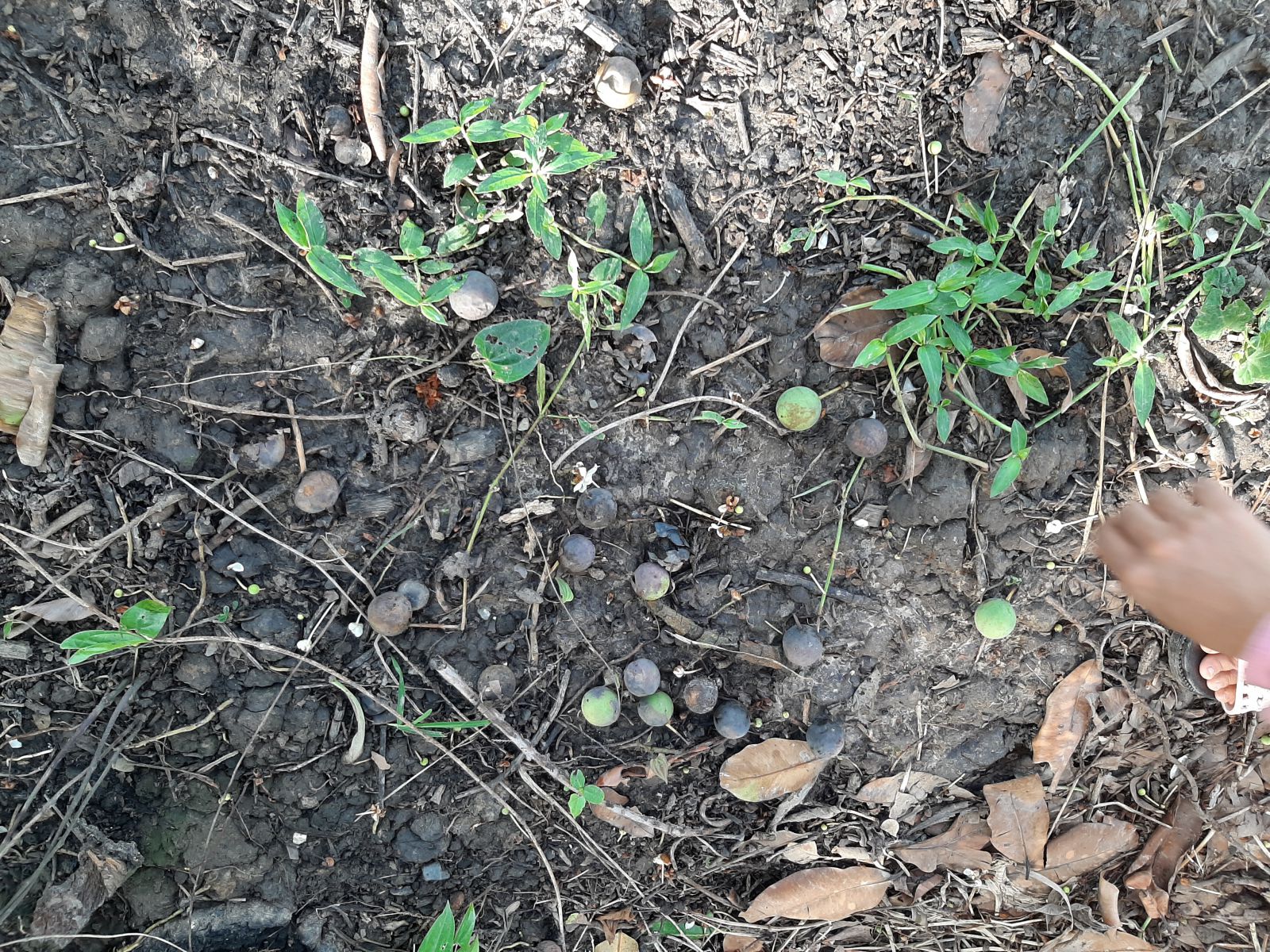 The Tamanu fruit ripens fall down to the ground



Currently, we have designed the Tamanu
shell separator
with a capacity of over 300kg / day. We have equipped this machine for farmers who are jointed of our project "Tamanu oil for export" to replace human power and improve labor productivity.






Farmers use manual tools to break the shell of the Tamanu fruit to get the kernel inside.

3. Sun Dried Tamanu nut kernel.
After peeling, tamanu seeds are exposed to the sun continuously for 8 hours a day for a week before the pressing oil process.

Sundry Tamanu nut kennel before press oil


4. Cold press Tamanu Oil
Tamanu seeds are put into the oil presser machine (cold-pressed). Presses use torque to squeeze the oil.
This is a cold-pressing process (the material is directly pressed without having to heat the material.)
Tamanu oil pressing by this method (cold pressing) retains the valuable nutrients of Tamanu Oil, helping to preserve oil longer time.




Cold press Tamanu Oil pressser


5. Filter Tamanu Oil
Tamanu oil is then filtered through cotton to remove impurities (if any), then stored in containers. Tamanu oil continues to deposition naturally for a maximum of 30 days and then Tamanu oil has reached the perfect condition for export packing.




Tamanu Oil filtered by cotton to remove impurities (if any)


Packing for export
Tamanu oil is packed according to customer requirements, ensuring absolute safety when transporting and storing Tamanu oil in perfect conditions.
Common drums sizes are HDPE / Metal drums from 25 kg to 190 kg.



Tamanu Oil store in the big drum for natural deposition then packing drum for export
Since 2011, Vietnam Essential Oil JSC has cooperated with non-governmental organization Helvetas to implement the project "Tamanu Oil For Export". The purpose of the project is to conserve and develop the area of Tamanu trees, creating jobs and income for farmers in the off-season. The project was first implemented in Tra Vinh province then expanded to all 13 provinces in the Mekong Delta. The total number of households participating in the project is about 300 households. Tamanu seed output is about 500 tons per year, and Tamanu oil for export is nearly 100 tons per year.
Vietnam Essential Oil JSC is proud to be the world-leading Tamanu oil producer. Our Tamanu oil is 100% pure & natural, organic certificate. Our Tamanu Oil has been exported to all over the world such as USA, UK, France, Germany, Netherlands, Turkey, China, India, Japan, Korea, Australia...